At A Glance
What exactly is Chabad at the University of Minnesota?  In a nutshell, we are…
A Jewish student organization
A comfortable home where you can explore your Jewish heritage
A forum where you can question faith and not be afraid of judgment
An opportunity to meet new friends and challenge yourself to think beyond the classroom
A place where every Jew is family
Mission Statement
The Chabad house doors at the University of Minnesota will always be open to all. It is a place where students can socialize in a comfortable, home-like setting, with friends, food and discussion. Chabad creates a warm and welcoming Jewish Student Center, where students can explore their Jewish heritage in a nonjudgmental and friendly atmosphere.
Founded on strong personal relationships, Chabad educates and empowers students to live the joy of Judaism.  We do this with many social activities, classes and events where students will gain a deeper understanding and appreciation of their heritage, in a fun interactive way. We provide for the spiritual and material needs of every Jewish student - regardless of background or affiliation with unconditional love and concern.
We look forward to personally welcoming you at the Chabad House where you will find warmth, wisdom and a good time at a House you can call your own!
Who We Are
Chabad at the University of Minnesota is a meeting place for social, religious, educational, and cultural events. Every Friday night while school is in session, we host Shabbat services and dinners that provide Jewish students with an intimate setting to eat, meet new people, and celebrate Shabbat in a way that is spiritual, intellectual, and stimulating.
Our holiday programs help raise Jewish consciousness and pride on the U of M campus. In addition, our Sinai Scholars Program and classes on Jewish law, philosophy, and ethics share the beauty and depth of our heritage with students as well as the leadership community.
Most importantly, we are there for students around the clock.  Whether it's a one-on-one learning session or a one-time request for help or advice, we are here to provide you with the support you need. Our doors never close and pride ourselves in being their home away from home while they're in school.
About Chabad
Chabad Lubavitch is a philosophy, a movement, and an organization. In fact, it is considered to be the most important force in Jewish life today. Today, 4,000 full-time emissary families apply 250 year-old principles and philosophy to direct more than 3,300 institutions dedicated to the welfare of the Jewish people worldwide.  Chabad on Campus currently serves over 170 schools worldwide.
As an important part of this movement, the focus of Chabad at the University of Minnesota is on the spiritual and social needs of the University of Minnesota's Jewish students. The organization is dedicated to the furtherance of Jewish education at all levels in the hope that it will inspire exploration of one's heritage and strengthen overall Jewish connection. Acceptance of every Jew regardless of background or prior experience is the hallmark of our philosophy.
Meet the Directors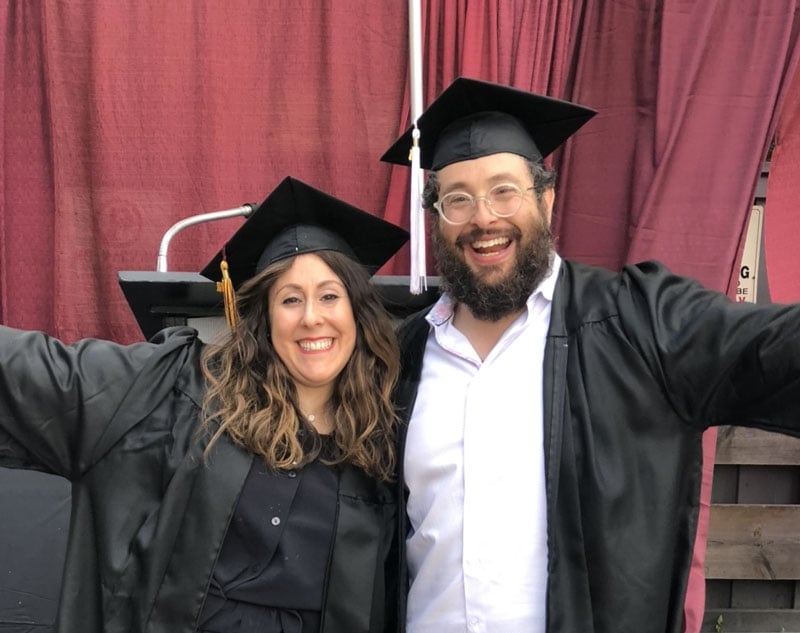 Rabbi Yitzi Steiner grew up in Toronto, Ontario, where he attended the Cheder Chabad of Toronto. In 1998 Rabbi Yitzi Steiner went on to study at the Michigan Jewish Institute in Oak Park Michigan and then continued his studies as an exchange student in Moscow, Russia. He received his rabbinic ordination from the Central Chabad Rabbinical Court in Israel and completed his studies at the Central Lubavitch Yeshiva in Brooklyn, New York.
Mrs. Chavi Steiner was born in Leeds, England, where her father, of blessed memory, served as the Dayan for the Leeds Jewish community. Her parents were sent by the Lubavitcher Rebbe in 1978 to open the first Jewish day school there. The Rebbe imbued her with a sense of mission to devote her life to Jewish education and community. She graduated with distinction from the Leeds Menorah School, and continued her post-graduate studies at Beis Chaya Mushka Girls Seminary in Tzfat, Israel.
Yitzi & Chavi have been co-directors of Chabad on campus since 2010. On an average day you can find Rabbi Yitzi studying with Jewish students and looking for new ones to meet. Chavi juggles meeting with students as well organizing all of the programing with the Student Board. Their highlight of the week is Shabbat dinner where close to 100 students pack into the Chabad house to celebrate Shabbat together.
Together with their five children, Mendel, Leah, Mussie, Bluma & Freeda, they're continuing their vision of opening the doors of Judaism to all students and faculty at the U of M. Where Jews of all backgrounds and degrees of observance can enjoy exploring their heritage in a warm, welcoming and non-judgmental environment.